Develop a seamless experience with your customers from start to finish. 
AN ENHANCED CUSTOMER EXPERIENCE
Succeed in your digital transformation and ensure the best in-store shopping experience for your customers.
Today's shopping journey is omnichannel, it becomes easy to buy by switching from one channel to another. The return of one or more products is part of the shopping experience, so it is essential to offer the customer a procedure that is as fluid as the shopping experience. For this, the 360° returns and refunds module of Octipas by ChapsVision allows them to come to any shop in your network or to have it sent back by mail in order to return the item(s) that are not suitable. The customer will be able to exchange or request a refund, regardless of the purchase channel used.
EASY RETURNS & REFUNDS WITH THE SELLER'S TABLET
The seller's tablet and Order Management System (OMS) solutions will allow your teams to easily manage returns and refunds by having access to all customer information (profile, orders) but also to collect new data such as: the reason why the customer is returning the product(s) and to more easily manage the logistical part of this product return.
What are the benefits?
Improved customer experience and loyalty

Generation of traffic in shop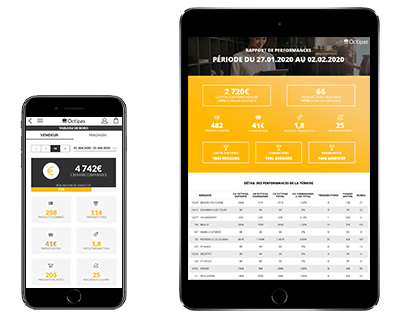 Parce que les vendeurs sont la clé d'une digitalisation des points de vente réussie, notre solution Digital In-store leur offre un ensemble de fonctionnalités afin qu'ils puissent prendre complètement en main ce nouvel outil.
Guides de formation pour une prise en main facile de la solution, partage des best-practices

Support technique

Suivi des performances en temps réel et envoi de rapport par e-mail

Challenge inter-vendeurs et inter-boutiques afin de booster l'utilisation de la solution
Quels avantages ?
Implication des vendeurs

Incitation à l'utilisation de la solution

Augmentation du CA
Plus de rupture avec le client dans le process d'achat

Désengorgement des caisses en cas de forte affluence
UNIFIED COMMERCE FUNCTIONALITIES
OMS : order management system
Orchestrate the omnichannel management of your orders and avoid stock-outs
Offer your customers a complete omnichannel shopping experience 
Remove the boundary between digital and physical commerce  
emerchandising &
searchandising
Enhance the user experience on your e-commerce site and in your shops 
Manage the tasks inherent in shop management from your sales staff's tablet
Put an end to stock fragmentation and repetitive stock-outs
Empower your salespeople to be at the heart of a unique customer experience
Offer the right product at the right time to the right customer
Vendor Performance Optimisation
Optimise the relational, commercial and organisational power of your salespeople  
Octipas' point of sale digitalisation solution was quickly and naturally chosen to meet Louis Pion's challenges and the expectations of our sales staff and customers.
Le support fourni par Octipas est toujours très réactif et les échanges sympathiques. The support provided by Octipas is always very responsive and the exchanges friendly. The support is twofold: business & technical
The Octipas by ChapsVision solution helps us to respond to new customer behaviour by reconciling online and offline
WHY CHOOSE THE UNIFIED COMMERCE PLATFORM?
*Best results observed with our clients
Contact our returns & refunds experts