COHERIS CRM CUSTOMER SERVICE BY CHAPSVISION
Coheris CRM is the only offer that allows you to perfectly know your customers in order to offer them personalized experiences in their life cycle
A UNIFIED VIEW OF YOUR CUSTOMERS
Going far beyond socio-demographic data:
Equipment

Contracts

Purchases

Behaviour (browsing, campaigns, social networks)

Predictive data (appetence scores, attrition, etc.)
AN OMNICHANNEL AND PERSONALISED CUSTOMER RELATIONSHIP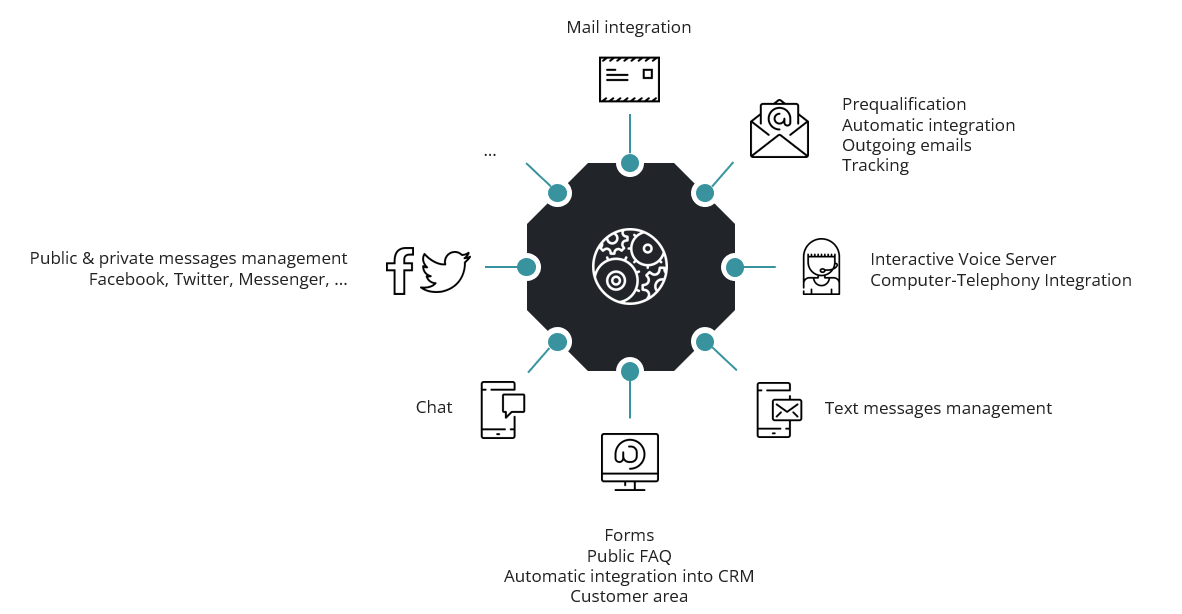 Centrally manage the various points of contact with your customers (telephone, email, SMS, chat, social networks, public FAQ, mail, customer area) using automated processes.
CRM SOFTWARE FOR YOUR CUSTOMER RELATIONS
Customer service is tactically important for many organisations, especially large companies. Driven by the digital transformation of the customer experience and Big Data, the market is becoming tighter, the public is becoming more knowledgeable and loyalty is becoming a difficult art but a strategic added value to be handled with the help of CRM solutions for companies.
Develop a remote relationship that meets consumer expectations. Add value to customer information and turn every prospect into an opportunity
Manage your activity in real time. Integrate configurable workflows that guarantee the standardisation of business processes.
Improve your cross-channel interactions with your customers to create brand ambassadors. Handle all points of interaction (emails, calls, letters, social networks, forms, etc.).
Benefit from customer knowledge to have a 360° view of your B2B, B2C or B2B2C customers. Synthetic summaries allow you to access information progressively according to the needs of the advisor.
A MODULAR, SCALABLE, AND INTEGRATED OFFER
AVAILABLE IN THE CLOUD OR ON-PREMISES
CRM Care supports you in your growth and business performance.
Start your project and add various modules according to your different needs to achieve the desired performance. With the progressive deployment of our CRM, develop your growth as you go along.
AN IMPLEMENTATION PROJECT WITH A FIXED PRICE COMMITMENT
Succeed in your digital transformation with the CRM Coheris by ChapsVision.
Achieve a high satisfaction rate of your customer service and control your Customer Relationship from end to end.
WHY CHOOSE COHERIS CUSTOMER SERVICE CRM BY CHAPSVISION
COHERIS CRM BY CHAPSVISION MODULES
Coheris CRM by ChapsVision allows companies to enter a digital relationship and to enrich their customer knowledge. Thanks to advanced analytical functionalities with a text mining module (text analysis) and data visualisation with an integrated BI module (Business Intelligence), users benefit from the latest innovations in CRM and analytics.
Coheris CRM integrates analyses and business dashboards for a better follow-up of your different KPIs
Coheris CRM analyses the syntax of messages to classify them automatically
Coheris CRM controls the free text zones to avoid entering sensitive data
Coheris CRM allows you to identify, consolidate and remove duplicates from your database
Coheris CRM is connected to the main Social Networks to process all interactions
The Coheris CRM by ChapsVision gives us a 360° vision of the life of an account thanks to the centralisation of data in a single tool (prospects > lead > customer).
The contact centre set up by Coheris manages user requests from all communication channels (telephone, fax, email, mail, web).
coheris crm by ChapsVision services
The success of a CRM project depends as much on the customization of the software package, on the implementation and the support of the project as on the intrinsic qualities of the chosen tool.
Always attentive to your needs, the project teams contribute to the respect of the deadlines, quality and costs set.
Each Coheris by ChapsVision training course is designed to allow you to take full advantage of the solutions' functionalities and to put in place the best practices in terms of integration, deployment and administration methodologies for both technical and functional profiles.
Coheris by ChapsVision has combined its maintenance and support skills into a Technical Support Centre whose vocation is to provide technical assistance to all its customers on the use of the software.
CONTACT OUR COHERIS CRM EXPERTS CUSTOMER SERVICE BY CHAPSVISION