AMI Enterprise intelligence®
Capture, analyse and share the essentials!
Our strategic and competitive intelligence solution, AMI Enterprise® Intelligence, enables companies to use Big Data to anticipate changes in their environment – competitive, technological and legal – and to identify new development opportunities.
A SOLUTION FOR THE WHOLE COMPANY
Identify growth opportunities and master your competitive environment.
Anticipate technological innovations in your
field.
Follow in real time the evolution of national and European legislation.
Know your suppliers and anticipate procurement
risks.
an administrator environment
Back-office
Organize and manage as you wish!
AMI Enterprise Intelligence® has a flexible administration interface (drag and drop) that can be easily adapted to the watchmaker's preferences.
Pick, analyse and distribute with ease thanks to the basket!
Thanks to the 'basket' functionality, the researcher can select documents from the entire corpus, without any particular settings or impact on the location of these documents within the corpus. This selection can then be the subject of an analysis, a report and/or a newsletter.
#Automatically classify and tag
#Smart typing
#Find easily thanks to Metasearch
Newsletter: Follow the guide!
Wizards guide you step by step through certain tasks, such as creating newsletters. Customisable in form and content, these newsletters have been designed to become real vectors of internal communication
a referral / expert environment
TopicLive™
Scan, Validate!
Integrated into the portal and available on mobile, the TopicLive™ application makes it possible to assess the relevance of collected content and validate it with a simple tap, without resorting to the back office.
a consumer / decision maker environment
TopicShare® is a fully responsive portal that provides all employees with fast, user-friendly access to all of the company's targeted topics. TopicShare provides a 360-degree view of the company's ecosystem via target entities and thematic dashboards in a space dedicated to the sharing and consumption of the monitoring product.
Users have their own personal space to share, rate, comment or subscribe (or unsubscribe) to the themes of their choice and receive the corresponding newsletters.
Thanks to the faceted search engine integrated into the portal, all occurrences of a key word or expression are called up, whether it is an article, a dashboard or even a widget. This makes information more accessible and easier to share.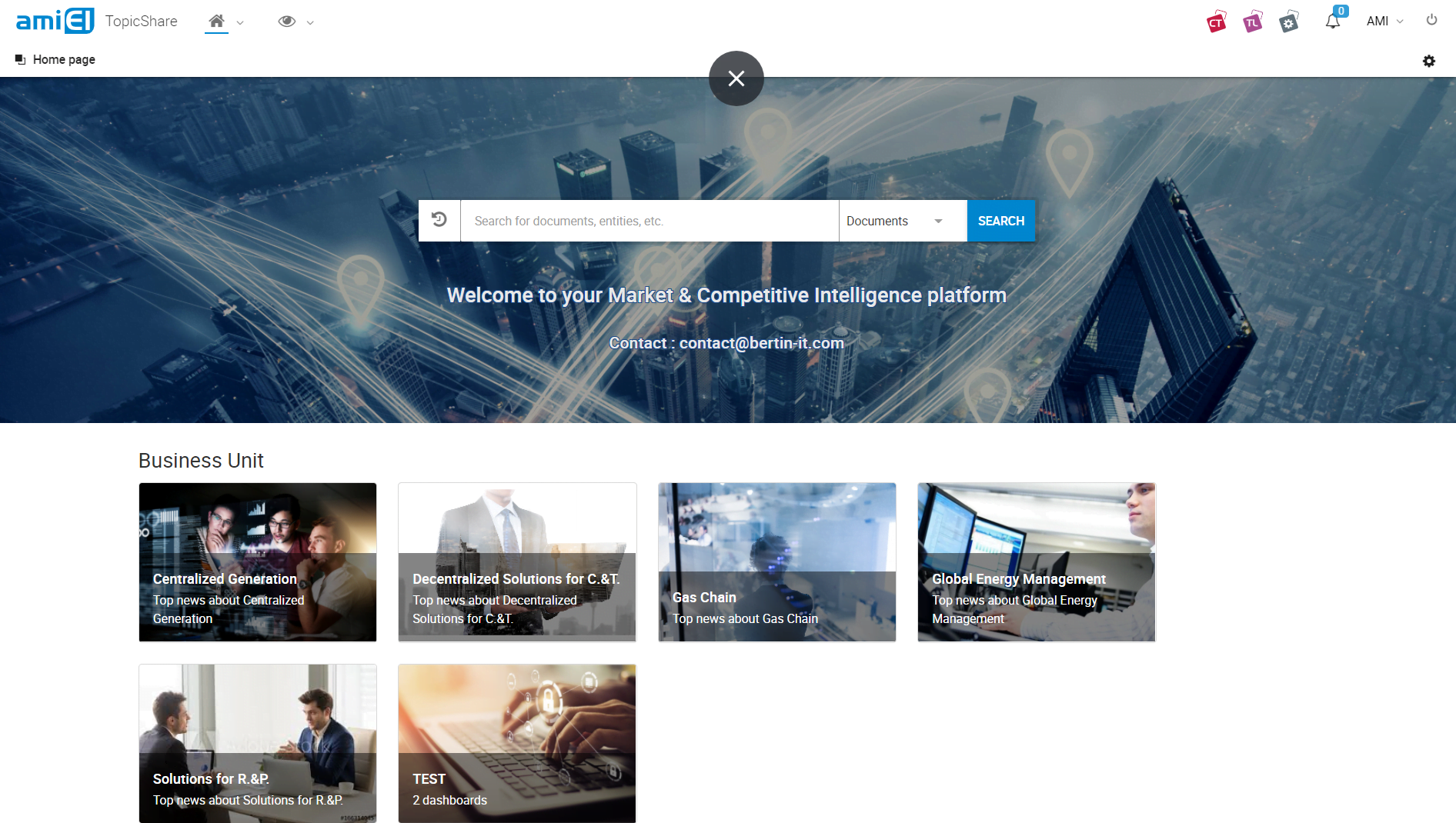 power your watch with SourceBox™
AMI EI® ensures a very wide coverage of sources (sites, blogs, forums, social networks [Facebook, Twitter, Instagram, etc.], mail servers, databases, CRM, etc.) while reducing the noise inherent in Big Data, thanks to the precise indexing of each word.
Our technology allows us to detect the importance of each word present in all your documents. This makes it easy to identify information that is relevant to your interests and to identify the main lines of the information.
Bunch of generic or specific sources

Pre-configured and expandable on demand

Continuously monitored

Nearly 200 languages processed
Our solution has won over 150 customers in France and abroad, including major industrial accounts and public organizations.
AMI Enterprise Intelligence®, it is also :
Our solution meets your integration, hosting and scalability requirements, thanks to its on-demand configurable architecture:
on site (within your information system)
in saas (on external servers, updates)
as a hybrid between onsite and in saas
an innovative and secure cloud
permanent access from any location
infrastructure and expert support
a system designed to control
contact our AMI EI® experts