Offer the right product at the right time to the right customer.
IMPROVE THE UPSELLING OF YOUR E-COMMERCE SITE.
Customers are looking for personalisation. Relevant product recommendation allows you to highlight products that match your customer's profile. Product recommendation is a cross-selling technique that will allow you to generate additional sales through intelligent product suggestion, easy search and by inspiring your customers.
Octipas by ChapsVision's e-Merchandising & Searchandising solution provides you with a predictive engine based on the principles of machine learning and relying on exclusive algorithms.
This engine is fed by all the interactions recorded on the site during each visit (pages viewed, products viewed, facets clicked on, placing in the basket, purchase, etc.). By analysing this data, the engine is able to recommend products by comparing the user's current behaviour with the behaviour of all Internet users. This gives business teams the ability to constrain the engine to best serve the current business plan.
The value of a product recommendation solution is the enrichment of the customer experience which is personalised from the moment they land on the site, the prediction of future purchases and links between products and suggestions based on the contents of the basket.
What are the benefits?
Increased likelihood of multiple purchases in the same session.

Inspiring shopping experience

Increased conversion rates

Highlighting of products

Increased average shopping basket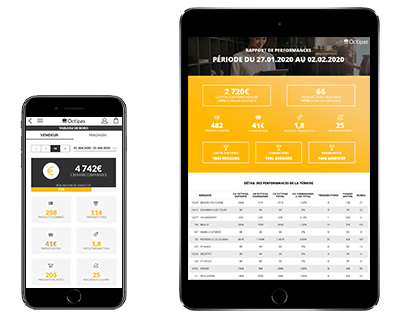 Parce que les vendeurs sont la clé d'une digitalisation des points de vente réussie, notre solution Digital In-store leur offre un ensemble de fonctionnalités afin qu'ils puissent prendre complètement en main ce nouvel outil.
Guides de formation pour une prise en main facile de la solution, partage des best-practices

Support technique

Suivi des performances en temps réel et envoi de rapport par e-mail

Challenge inter-vendeurs et inter-boutiques afin de booster l'utilisation de la solution
Quels avantages ?
Implication des vendeurs

Incitation à l'utilisation de la solution

Augmentation du CA
Plus de rupture avec le client dans le process d'achat

Désengorgement des caisses en cas de forte affluence
UNIFIED COMMERCE FUNCTIONALITIES
OMS : order management system
Orchestrate the omnichannel management of your orders and avoid stock-outs
Offer your customers a complete omnichannel shopping experience 
Remove the boundary between digital and physical commerce  
emerchandising &
searchandising
Enhance the user experience on your e-commerce site and in your shops 
Manage the tasks inherent in shop management from your sales staff's tablet
Put an end to stock fragmentation and repetitive stock-outs
Develop a seamless experience with your customers from start to finish
Empower your salespeople to be at the heart of a unique customer experience
Vendor Performance Optimisation
Optimise the relational, commercial and organisational power of your salespeople  
Octipas allowed us to create navigation pages, to design sorting and ranking facets and to create content animations
The choice of Octipas for this project was based on their coverage of the functional perimeter, their ability to interface with our information system and their capacity to evolve with our future needs
Octipas was quick to understand the challenges and needs of Louis Pion
WHY CHOOSE THE UNIFIED COMMERCE PLATFORM?
*Best results observed with our clients
Contact our product recommendation experts