No more fragmentation of stocks and no more repetitive stock-outs.
IMPROVE YOUR CUSTOMERS' SHOPPING EXPERIENCE.
Succeed in your digital transformation and ensure the best shopping experience for your customers.
Inventory consolidation is the foundation of an omnichannel commerce strategy. With it, there are no more e-commerce, warehouse or shop inventories. A single unified stock enables you to make the entire stock available at all points of sale, whether online or physical.
This way, shops also become shipping points to fulfil orders that may come from e-commerce or other shops: otherwise known as Ship-from-Store.
UNIFIED INVENTORY AND ORDER MANAGEMENT SYSTEM
Your OMS Octipas by ChapsVision solution will define the best shipping strategy in order to select the best shipping point for the order, reducing the logistic costs and the delivery time for the customer.
What are the benefits?
One stock for all your sales channels: you reduce your storage costs and limit stock-outs

Real-time stock updates

Multiplication of order dispatch points

Increased conversion rate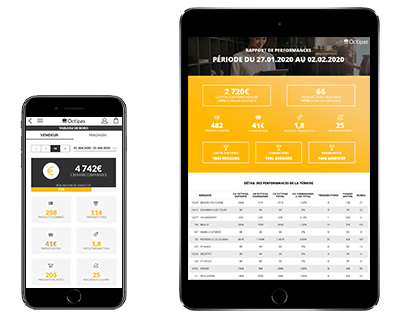 Parce que les vendeurs sont la clé d'une digitalisation des points de vente réussie, notre solution Digital In-store leur offre un ensemble de fonctionnalités afin qu'ils puissent prendre complètement en main ce nouvel outil.
Guides de formation pour une prise en main facile de la solution, partage des best-practices

Support technique

Suivi des performances en temps réel et envoi de rapport par e-mail

Challenge inter-vendeurs et inter-boutiques afin de booster l'utilisation de la solution
Quels avantages ?
Implication des vendeurs

Incitation à l'utilisation de la solution

Augmentation du CA
Plus de rupture avec le client dans le process d'achat

Désengorgement des caisses en cas de forte affluence
UNIFIED COMMERCE FUNCTIONALITIES
OMS : order management system
Orchestrate the omnichannel management of your orders and avoid stock-outs
Offer your customers a complete omnichannel shopping experience 
Remove the boundary between digital and physical commerce  
emerchandising &
searchandising
Enhance the user experience on your e-commerce site and in your shops 
Manage the tasks inherent in shop management from your sales staff's tablet
Develop a seamless experience with your customers from start to finish
Empower your salespeople to be at the heart of a unique customer experience
Offer the right product at the right time to the right customer
Vendor Performance Optimisation
Optimise the relational, commercial and organisational power of your salespeople  
OMS Octipas has enabled us to unify our stocks and optimise order processing to significantly increase our turnover
The Octipas by ChapsVision solution helps us to respond to new customer behaviour by reconciling online and offline
The support provided by Octipas is always very responsive and the exchanges friendly. The support is twofold: business & technical
WHY CHOOSE THE UNIFIED COMMERCE PLATFORM?
*Best results observed with our clients
contact our unified stocks expert